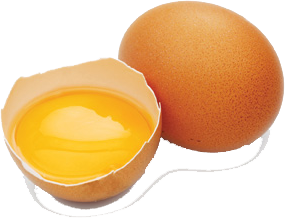 We hear a lot about vitamins and minerals such as B12, folate, magnesium, vitamin C, and so on, but there seems very little talk these days on the importance of dietary lecithin and choline. Are you consuming an adequate amount of acetylcholine, or other phospholipids? The odds are that you are not.
A little bit about choline
The human body produces choline by methylation of phosphatidylethanolamine (from dietary sources such as lecithin and others) to form phosphatidylcholine in the liver by the PEMT enzyme. Phosphatidylcholine may also be consumed in the diet or by supplementation. Choline is oxidized to betaine which acts as an important methyl donor and osmolyte.
For those wanting to see how this relates to the methylation cycle, below is a nice graphic (courtesy of Wikipedia).
It is well known that magnesium deficiency is widespread (57% of the population does not meet the U.S. RDA according to the USDA), but the numbers for choline deficiency are even more shocking.

According the National Health and Nutrition Examination Survey (NHANES) in 2003-2004, only about 10% of the population have an adequate intake of choline. This means about 90% of the population consumes a diet deficient in choline. Furthermore, those without an adequate intake of choline may not have symptoms.
Along with folate and B12 deficiency, inadequate consumption of choline can lead to high homocysteine and all the risks associated with hyperhomocysteinaemia, such as cardiovascular disease, neuropsychiatric illness (Alzheimer's disease, schizophrenia) and osteoporosis. Inadequate choline intake can also lead to fatty liver or non-alcoholic fatty liver disease (NAFLD).
The most common symptoms of choline deficiency are fatty liver and/or hemorrhagic kidney necrosis. Consuming choline rich foods usually relieve these deficiency symptoms. Diagnosing fatty liver isn't as simple as running ALT and AST since nearly 80% of people with fatty liver have normal levels of these enzymes according to a population study published in the journal Hepatology. In fact, in an experiment, 10 women were fed a diet low in choline. Nine developed fatty liver and only one had elevated liver enzymes.
For those who are genotyped by 23andMe, there is a SNP (rs7946) related to NAFLD you can look at in the PEMT gene called PEMT G523A (V175M). Caucasians with nonalcoholic fatty liver are more likely to carry the rs7946 (T), with the effect being most pronounced for rs7946(T;T) genotypes. [PMID 16051693]
If you are genotyped by 23andMe, make sure you are logged in to 23andMe and you will see your results for this SNP.

Loading…
Choline, the nervous system, and the heart
Despite it's role in the CNS and stimulating parasympathetic activity, there is very little info about choline and mental illness. However, in a large population-based study published in The American Journal of Clinical Nutrition, people with higher blood levels of choline had lower levels of anxiety – however, levels of choline did not correlate with depressive symptoms.
Despite the lack of studies, it has been clinically observed that supplementing Lecithin or putting patients on a Lecithin rich diet can lower levels of anxiety, help the nervous system by establishing balance between sympathetic and parasympathetic, and even manage cardiac dysrhthmias. The Milner Acetylcholine Protocol (MAP) uses lecithin to manage cardiac dysrhthmias.
Phospholipids and the cell membrane
The fundamental building blocks of all cell membranes are phospholipids. Lecithin consists of phospholipids such as phosphatidylcholine, phosphatidylethanolamine, phosphatidylinositol, Phosphatidic acid, other minor phospholipids and glycolipids. About 50% of the mass of most cell membranes are composed of phospholipids. The plasma membranes of cells also contain glycolipids and cholesterol – which correspond to about 40% of the total lipid molecules. Adequate intake of phospholipids and glycolipids is important for the integrity of the cell membranes. Lecithin contains a balanced amount of phospholipids and glycolipids.
Phospholipid supplementation has also been shown to help with mitochondrial dysfunction in patients with diseases such as Chronic Fatigue Syndrome, chronic Lyme Disease, Fibromyalgia, and Gulf War Illness. Fatigue reduced about 40% in Chronic Fatigue Syndrome patients after lipid replacement therapy (supplementing phospholipids) according to the Journal of Chronic Fatigue Syndrome.
Adequate intake of choline and choline-rich foods
Adequate intake of choline varies by age. Here is a table by CholineInfo.org.
Adequate Intake (AI) levels for choline are:
Population

Adequate Intake (AI)
of Choline

Infants:(0-6 months)
(7-12 months)
125 milligrams
150 milligrams
Children:(1-3 years)
(4-8 years)
(9-13 years)
200 milligrams
250 milligrams
375 milligrams
Adolescents:(14-18 years)
400 milligrams (Females)
550 milligrams (Males)
Adults:(19 and older)
425 milligrams (Females)
550 milligrams (Males)
Pregnant women
450 milligrams
Breastfeeding women
550 milligrams
CholineInfo.org also has a very nice graphic showing the best sources of choline. According to their chart, beef liver and egg are by far the best sources for lecithin with modest amounts in lean beef, chicken breast, cod, wheat germ, and cauliflower.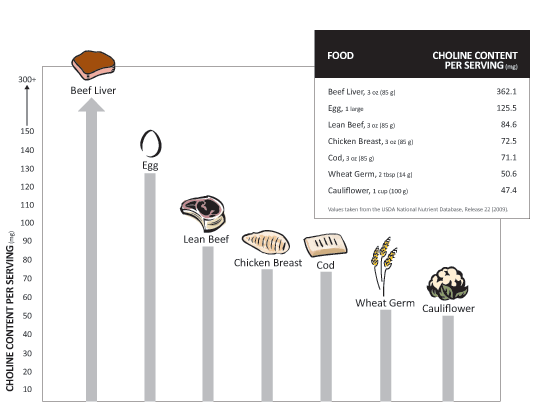 Unfortunately, not all nutrition data is the same, and for the sake of comparison, below is what Wikipedia lists as high choline foods.
| Animal and plant foods | Choline (mg) | Calories |
| --- | --- | --- |
| 32 gram sunflower lecithin syrup | 544 | 250 |
| 5 ounces (142 g) raw beef liver | 473 | 192 |
| 15 gram soy lecithin granules | 450 | 120 |
| A cup of wheat germ | 202 | 432 |
| Half a pound (227 g) cod fish | 190 | 238 |
| A pound (454 grams) of broccoli | 182 | 158 |
| A pound (454 grams) of cauliflower | 177 | 104 |
| Quart of milk, 1% fat | 173 | 410 |
| Half a pound of chicken | 150 | 543 |
| Two cups (0.47 liters) firm tofu | 142 | 353 |
| A cup of uncooked amaranth | 135 | 716 |
| 30 gram Brewer's yeast (2 tbsps) | 120 | 116 |
| A cup of uncooked quinoa | 119 | 626 |
| 100 grams of Soybeans dry | 116 | 268 |
| Large hardboiled egg | 113 | 78 |
| A pound of spinach | 113 | 154 |
| Two cups of cooked kidney beans | 108 | 450 |
| A cup (146 g) of peanuts | 77 | 828 |
| A cup (143 g) of almonds | 74 | 822 |
| Three cups (710 cc) cooked brown rice | 54 | 649 |
| A grapefruit | 19 | 103 |
Since cooking eggs at high temperatures destroys the choline content, it's best to cook the egg so the yolk is runny to preserve lecithin content. For people without egg allergies, properly cooked eggs is one of the best sources of lecithin.
In presence of an egg allergy, consuming liver or supplementing with sunflower lecithin may be the best options to ensure an adequate intake of choline. Sunflower lecithin may be a better source for lecithin than soy because unlike soy lecithin, sunflower lecithin is never derived from GMO crops. Also, soy is generally more allergenic than sunflower, so soy lecithin could potentially provoke unwanted effects in sensitive individuals.
Acetylcholine, phospholipids, autoantibodies, and a word of caution
Acetylcholine and antiphospholipid autoantibodies are seen in various autoimmune and chronic illnesses. It is well know that with Myasthenia Gravis, patients most commonly have autoantibodies against nicotinic acetylcholine receptor (nAChR). A large number of CFS patients may have acetylcholine receptor antibodies according to a study published in the International Journal of Molecular Medicine.
Dysautonomia and POTS can also be associated with autoantibodies against acetylcholine receptors. Mayo medical laboratories has a very comprehensive Autoimmune Dysautonomia Evaluation lab test that tests for autoantibodies against acetylcholine receptors and much more.
Antiphospholipid Syndrome (or Hughes syndrome) is an autoimmune condition that can lead to hypercoagulation and blood clots. Conditions such as Lupus, Sjogren's syndrome, Chronic Fatigue Syndrome, and Fibromyalgia are often associated with antiphospholipid antibodies. Antiphospholipid antibodies can even develop in presence of chronic infections such as Hepatitis C, Syphilis, Chlamydia pneumoniae, EBV, HHV-6, Lyme disease, mycoplasma, Q Fever, and many other infections. Antiphospholipid syndrome can be tested for with LabCorp's Thrombotic Risk Profile.
At this time there is insufficient evidence to determine if supplementing lecithin would be beneficial or harmful for those with acetylcholine receptor autoantibodies or antiphospholipid syndrome. More clinical research is needed to understand how lecithin supplementation influences the various autoimmune processes that may exist in these patients.
Whether you are a health expert with experience utilizing choline rich foods or lecithin supplements to treat chronic illness, or a patient using choline to promote your own health, please share your experience below.