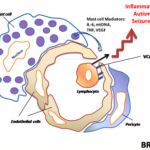 What do chronic illnesses such as Autism, Chronic Fatigue Syndrome (CFS), Fibromyalgia Lupus, Chronic Lyme Disease, Interstitial Cystitis, Multiple Sclerosis, and more have in common? Well, these illnesses may have a lot of things in common, and a lot of overlapping symptoms, but many patients symptoms seem to be compatibled with Mast Cell Activation Syndrome or Mast Cell Activation Disorder (MCAS or MCAD).
So what is MCAS/MCAD according to the AAAAI?
MCAS is a condition in which the patient experiences repeated episodes of the symptoms of anaphylaxis – allergic symptoms such as hives, swelling, low blood pressure, difficulty breathing and severe diarrhea. High levels of mast cell mediators are released during those episodes. The episodes respond to treatment with inhibitors or blockers of mast cell mediators. The episodes are called "idiopathic" which means that the mechanism is unknown – that is, not caused by allergic antibody or secondary to other known conditions that activate normal mast cells.
https://www.aaaai.org/conditions-and-treatments/related-conditions/mcas
A list of triggers for MCAS/MCAD according to The Mastocytosis Society
Heat, cold or sudden temperature changes
Stress: emotional, physical, including pain, or environmental (i.e., weather changes, pollution, pollen, pet dander, etc.)
Exercise
Fatigue
Food or beverages, including alcohol
Drugs (opioids, NSAIDs, antibiotics and some local anesthetics) and contrast dyes
Natural odors, chemical odors, perfumes and scents
Venoms (bee, wasp, mixed vespids, spiders, fire ants, jelly fish, snakes, biting insects, such as flies, mosquitos and fleas, etc.)
Infections (viral, bacterial or fungal)
Mechanical irritation, friction, vibration
Sun/sunlight
Symptoms and Triggers of Mast Cell Activation
I know for a fact that many have trouble with one, many, or perhaps all of these triggers. From that list, I know alcohol, stress, sunlight, infections, some natural odors, perfume, chemicals, heat, drugs, exercise and cold trigger my symptoms. I know certain indoor environments can be triggers too — possibly from mold/fungus, bad indoor air quality, or a poorly maintained HVAC system.
The Mastocytosis Society had a decent list at symptoms associated with MCAS/MCAD, but let's look a little more in-depth at symptoms.
Oh TWIST has a pretty good (and long) list. Yes, the list seemingly go on forever, but these are symptoms that many with MCAS/MCAD will experience.
A Relatively Complete List of Associated Symptoms (Oh TWIST)

Easy flushing red, particularly of the "mantle" (upper chest, neck and face, not always 100%), and especially to stress, heat or triggers (including emotional)
Hives, especially stress-driven ones, can be large or small and not always all over
Urticaria Pigmentosa (persistent hives that fade but never disappear), TMEP, Purpura
Dermatographism – aka "skin writing" where you either turn red easily or even get a hive-like whelt (wheal) with a light skin scratch. (Google it for images.) You may notice red indented sock & underwear "tattoos" where the elastic rests on your skin in winter
Adult onset or flare-ups of acne
Sudden onset diarrhea especially alternating with constipation (often called IBS)
Sudden abdominal bloating and swelling (can look "pregnant" when you're not)
Sudden onset of gas and belching
Sudden onset nausea, trouble swallowing (rule out comorbid HDCT driven neurological drivers of this), early satiety
Tendency to run cold (but can alternate with sudden hot flashes/sweating bouts or run hot also)
React easily (are sensitive) to sunlight, vibration, startling, pressure, stress, hot or cold
Sensitive to alcohol and molds (the penicillin class of anti-biotics, mushrooms)
Reaction to bee stings and iodine contrast dyes, local & general anesthesias
Itching of unknown origin, may migrate, often severe
Tingling or burning sensation anywhere in the mouth or GI tract (BMS)
GERD
Tinnitus of all kinds, but especially after eating certain things
Variable blood pressure (BP), may run quite high or low on average and can swing widely at times. Some have a spike with anaphylactic reactions, followed by later drop.
Angio-edema (swelling) especially that "migrates", e.g., shows up in different places (lips, eyes, hands, feet), not always in the same place nor due to being upright (gravity-driven)
Shortness of breath and asthma like symptoms and outright asthma
Hair loss/thinning
A persistent non-productive but wet-sounding cough with no identifiable infectious origin
Chronic post-nasal drip or rhinitis in the absence of allergies
Watery eyes, burning eyes (feeling of granularity or sandiness behind eyelids)
Rashes of unknown origin, adult onset acne or acne-like spots (not same as Urticaria Pigmentosa which is a form of cutaneous mastocytosis)
Easy nose-bleeds (epistaxis) of unknown origin, easy bruising or bleeding (w or w/o a comorbid connective tissue disorder)
Slow wound healing
Aquagenic urticaria (your skin reacts to immersion in water)
Sudden weight gain or loss in absence of clear driver/cause (rule out lipedema and endocrine disorders)
Sudden mood swings, anger bouts or irritability (we call this the "histameanies" in support circles, smile, and thank everyone for tolerating us through them)
Cry easily, easily aroused, emotional (look into histadelia)
Sudden anxiety or panic attacks followed or accompanied by additional signs of low-level anaphylaxis (skin signs, mucus, etc.)
Sudden onset aphasia, or loss of words or speech, slurred speech or "word salad" that clear up after the reaction/stress subsides or with anti-histamines or mc stabilizers (be sure to rule out stroke! as well as epilepsy).
Any and all forms and levels of anaphylaxis which comes in grades. Many are in mild constant low level state with occasional spikes to higher states or rebound events. (Most medical personnel refuse to call it anaphylaxis until it's the higher level/s however be prepared for some differences of opinion here and try to stay calm.)
Sensitivities or anaphylaxis to any and all drugs, fillers, dyes, additives, preservatives, fluoride, chlorine, etc. We can react to any degree to almost anything, truly. (Yes, crazy making for all.) Sometimes it's not the active ingredient, but a dye or filler. Or the fact you were upset when you ingested it.
Esophageal spasms, nutcracker esophagus, especially when stressed
Chronic fatigue, sometimes severe, often identical in onset/nature to opioid-induced respiratory depression (many find this in reaction to gluten and dairy) often misdiagnosed with Chronic Fatigue Syndrome
Pre-syncope – or dizziness, light-headedness, feeling about to faint (but you don't)
Full syncope – full fainting (less common but also happens)
Confusion, sudden trouble with word-finding, sudden memory-loss (check for stroke tho too, time is of the essence and you'd rather be safe than sorry!)
Clotting or alternatively bleeding disorders (either direction) that defy normal hematological diagnosis and workup (and treatment)
Swollen lymph nodes of unknown origin, not true lymphomas
Any other forms of hematologic disorders (strange cell counts/sizes, changes in same) that do not strictly match true workup for similar conditions (e.g. polycythemia in absence of the JAK2 mutation) or don't respond appropriately to treatment for same
Migraines and cluster headaches, hydrocephalus and "corking" driven dysautonomia
Low blood volume from 3rd spacing and urinating more than ingesting during reactions (lends to BP drops and very low BP)
Kounis Syndrome or signs of it. (Allergy-type driven MI/vessel spasms)
Interstitial Cystitis (IC) or chronic UTI's that don't resolve easily or at all with anti-biotics (i.e. "sterile" inflammation)
Women may notice "flares" of these symptoms on a monthly basis from their cycles, and or during lifetime hormonal changes, especially any time after age 30 from peri-menopause
Hypotension (low blood pressure) is common with MCAS/MCAD, but some patients may present with hypertension. Hyperadrenergic POTS can present in Mast Cell Activation Disorders. Hyperadrenergic POTS presents with orthostatic intolerance associated with an elevated heart rate (≥30 bpm within 5 minutes of standing) and hypertension (≥20 mm Hg increase in systolic blood pressure upon standing).
See Hyperadrenergic Postural Tachycardia Syndrome in Mast Cell Activation Disorders in the journal Hypertension.
Is There Research Connecting MCAS/MCAD to Chronic Illness?
Ok, by now, you may be thinking, wow, I have many of the triggers and symptoms on this list, but is there research showing that this condition exists in various chronic illnesses? Dr. Theoharides, the Director of the Molecular Immunopharmacology & Drug Discovery Laboratory, has put out quite a lot of research.
You can check out his huge amount of research here: http://www.mastcellmaster.com/publications.php
Treating Mast Cell Activation
While a lot of Dr. Theoharide's research focuses on natural substances such as Luteolin for inhibiting mast-cell activation, and while he is the medical director of Algonot, it's important to note that he receives no compensation from this company. I think it is important to note this fact because often when one has financial ties to companies or products, their research often becomes skewed or misleading. Algonot develops a supplement for MCAD called Neuroprotek that contains the bioflavonoids Luteolin, Quercetin, and Rutin.
There are pharmaceuticals for MCAD. Hydroxyzine preparations can be quite powerful, but usually require a prescription. Anecdotally, the combination of Zantac and Zyrtec (OTC at your local pharmacy) seems to work pretty well. Zyrtec is an H1 receptor inverse agonist and Zantac is a H2-receptor antagonist. However, even though these are over the counter, do not begin these medications without consulting with a qualified healthcare practitioner first.
Is MCAS/MCAD connected to methylation?
This may be the million dollar question. There is not much information and MCAD and methylation, but I will end with a quote from the theory at mthfrheds.com.
MTHFR Polymorphism may be a predisposing factor to mast cell disease. 5-MTHF regulates biosynthesis of BH4. The A1298 mutation in the MTHFR enzyme effects the conversion of BH2 to BH4. Less amounts of BH4 inhibits NO formation resulting in increased mast cell degranulation. Inadequate BH4 formation also puts a strain on the conversion of tryptophan to serotonin and tyrosine to dopamine, leading to low levels of the neurotransmitters: dopamine, norepinephrine, serotonin and melatonin.

Low blood serotonin levels help define a sub-group of patients with mastocytosis that are more likely to present with neurological and gastrointestinal complaints. Human mast cells can express and be activated through multiple serotonin receptors, and synthesize and release serotonin. Low blood serotonin levels in such patients may be the result of low BH4 levels due to 5-MTHF deficiency, the result of long-term malabsorption from chronic inflammation of the gastrointestinal tract or both, as is the case with me.

BH4 is a critical factor in cellular activities such as cell proliferation, cell cycle regulation and differentiation. Could BH4 deficiency secondary to MTHFR polymorphism be one of the fundamental mechanisms that underlie mast cell proliferation?
So the question I am left with is what substances should we try, or how do we modify our methylation protocol when it seems that MCAS/MCAD may play a large role in the clinical picture. In the absence of improvement of MCAS/MCAD type symptoms (without taking antihistamines or Luteolin-based supplements), would taking BH4 directly help? Is BH4 deficiency really the issue?
If anyone has any comments on how to address MCAS/MCAD with methylation supplements, or if they have tried taking BH4 directly, please comment.