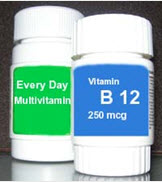 Science goes a process of discovery and de-discovery (when a discovery is proven to be a false discovery). People and physicians also fail to remember that we also go through a process of rediscovery as well.
Independent researchers, doctors, and even patients are researching, writing articles, creating podcasts, and uploading their presentations to YouTube about MTHFR and methylation. But much if not most of their information is unpublished. Many of these people researching don't even hold a degree in the field. So what happens when you start throwing acronyms such as methylation and MTHFR all over the place while looking at these seemingly overly complex diagrams? People, physicians, and even scientists may be quick to call this activity unscientific and alternative medicine quackery. Something that looks overly complicated (like quantum physics) that seems to have suddenly appear out of nowhere must fall in this category, right?
Welcome to the 21st century. When science doesn't do their job or is underfunded, independent researchers, doctors, and patients will step up to the plate. Researching isn't just for those sitting in their Ivory Tower anymore. It's becoming hugely collaborative.
So let's get to the point of this post
Think supporting your methylation cycle is some new alternative medicine fad? Think again.
In my opinion, there's no doubt that supporting your methylation cycle can make a major difference in certain chronic illnesses.
Just check out this medical journal in the American Journal of Human Genetics from the year 2000. It describes the methylation cycle pretty well – before so-called alternative medicine started talking about it.
Just check out their Methylation Cycle diagram (Figure 1). Look familiar? I thought so.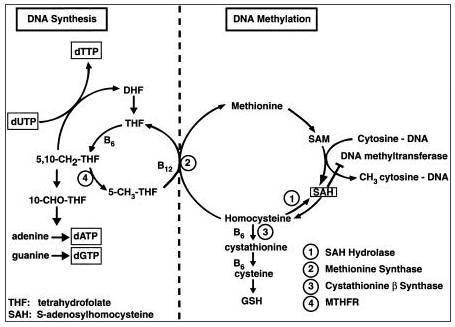 We've actually been in the process of rediscovery the last few years, and in my opinion, it won't be too long before mainstream medicine eventually catches on. In fact, they already are catching up with prescription supplements such as MetanX, Cerefolin NAC, and Deplin. The problem is, most doctors don't take the time to understand the biochemistry that takes place when prescribing these. I don't think the pharmaceutical companies necessarily know what they are doing when they create these formulations either, but that's another story.
Buckle your seatbelts as mainstream medicine starts making an entrance. Just over the past few months, there have been an influx of studies about methylation and vitamin status (such as B12, Folate, and B6).
Here are some recent medical journals
In the last study I mentioned in the list above, the mothers were given folate, vitamin B12, choline, betaine and methionine during the first and second trimesters of pregnancy. And guess what?
Results of this study suggest that higher intake of folate in early pregnancy is associated with higher scores on the PPVT-III, a test of receptive language that predicts overall intelligence, at age 3 years.
So where are these studies coming from?
The last one I mentioned came from the Department of Epidemiology, University of Michigan School of Public Health. Some of those other studies came from Harvard and National Cancer Center Research Institute, Tokyo, Japan. Just like us, these studies are looking at genes such as MTHFR, MTRR, MTR, and more.
It's a bit moronic that Bloomberg.com called these genetic panels and treatment "health fraud" when institutes such as Harvard and the Japan National Cancer Research Institute are looking at the very same genes, and using the very same vitamins for therapy in diseases as severe as cancer. Yes, these panels are marketed mainly for the Autism community. And no, they are not covered by the insurance. Some of the SNPs don't have much peer-reviewed evidence to support the claims that are made. But it's important to remember that treating physicians often rely clinical evidence as well as published research.
So is supporting your methylation cycle a cure-all?
No. Will anybody be cured? Cure is a strong word, but I think it's possible that many could go into remission eventually.
But even if it doesn't cure or lead to remission, it doesn't mean it's not a worthy treatment. Does HAART cure AIDS? Nope. Does Interferon Therapy cure Hepatitis C? Nope. Do immunosuppressive drugs or IVIG cure Lupus? That would be another no.
We must remember even if a treatment doesn't cure, it doesn't mean it doesn't work.
I am glad that research is advancing in this field, but I am sick of the fights between alternative medicine and mainstream medicine – especially when both are on the same page looking at the same exact things! But until physicians understand the complexity and importance of supporting the methylation cycle, it's not likely your average doctor will embrace these type of tests and therapies.