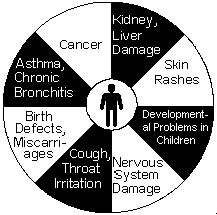 We live in a toxic world. We have an epidemic of auto-immune disease. We have an epidemic of Autism. We have more than 80,000 chemicals that are unregulated and have never been assessed for the potential negative impacts on human beings, animals, insects and the environment. And even the chemicals that have been well-studied are often very toxic to the human body. But we still use them. They may impact DNA methylation in a very negative way, cause endocrine disruption, immune dysregulation, alter receptor sites that are necessary for life, and cause cancer. These chemicals may kill animals such as frogs and bees at very low concentrations, but we ingest them, breath them, and let them seep transdermally through our skin.
I won't even begin to name these chemicals, because there are way too many to name.
How do we avoid all these harmful chemicals?
These chemicals are everywhere. They are in the air, on your clothes, on your or your neighbor's lawn, on most of your furniture, on your mattress, in your plastic containers, on your baby's toys, in your shampoo, in your perfume or cologne, in your food, in your water and more. I think you get the point. You have the power to limit exposure, but you simply can't avoid exposure.
If you are looking for help in limiting exposure to toxic chemicals, download the brochure at UCSF Toxic Matters.
HealthyChild.org has a really cool video that illustrates this chemical mess that we are in very well.
A Wake-Up Story from Healthy Child Healthy World on Vimeo.
The biggest threat to human life may be the chemicals and toxins we are putting in our environment. Really.
However, detoxification is generally seen as unnecessary by mainstream medicine and is considered an alternative health type thing. Maybe if we were living on a deserted island or an impermeable bubble with no chemicals or influence from the outside world, detoxification wouldn't be important. Maybe if we revert back to our life a few hundred years ago, detoxification wouldn't be important. But now, we have disrupting chemicals that our body doesn't know how to eliminate. And they are everywhere.
Detoxification? What's that?
Detoxification is also a very broad term. Supporting your methylation cycle is one way to boost your glutathione and help detoxification, but there are many approaches to detoxification. I won't go into the various approaches in this article, but the broad term of detoxification can make one think, ok, what do you mean?
While supporting methylation helps in the detoxification of heavy metals and other harmful toxins, there are other ways to assist the body of removing heavy metals biotoxins, xenoestrogens, organophosphates, and more. This will be covered in future articles.
How do I protect my children?
Well, for $99, you can test your child through 23andMe and look at their MTHFR status and other associated genes. Of course, you can get an MTHFR test through your doctor, but you are only looking at one single gene SNP. Not a lot of bang for your buck. And if your child comes back with bad mutations, you can take preventative actions through diet, lifestyle, and supplements.
Proper prenatal vitamins have never been so important. Dr. Ben Lynch has a good article about this subject. If you are pregnant, supplementing with vitamins such as Folate, B12, and B6 may not only be important, but necessary for the proper development of your child. And it's even more important when you have something like a homozygous MTHFR mutation. Oh, and you may have a side effect of smarter children according to studies. I use the term proper prenatal vitamins, because many prenatal vitamins are loaded with synthetic folic acid and B12 as cyanocobalamin that isn't absorbed very well. Folic acid should be avoided in my opinion, and one should supplement with folate in forms such as L-methylfolate. Of course, consult with a knowledgeable doctor for advice – with emphasis on the word knowledgeable.
So is the answer to our increasingly toxic world to become a hippie?
Call it whatever you want, but we're in a day and age where diet, lifestyle, and limiting chemical exposure is extremely important. I strongly believe that it's a necessary action you must take to get better and keep your family healthy.