Getting Started
23andMe testing now available for only $99!
Explore your DNA with your family. Now 20% off on all additional kits.
Order your kit from 23andMe and send them a saliva sample

23andMe will notify you when your results are ready

Vist geneticgenie.org to see your free methylation and/or detoxification profile
First, using the methylation and detox profile features on this site require a 23andMe test. 23andMe saves close to a million pieces of genetic data from your DNA. The test is easy, and there is no doctor needed. Just go to http://23andMe.com, order a kit, spit in a tube, and they run your DNA through their lab. There is a lot of cool features such as health risks for certain diseases, and ancestry information. It's fun!
To order your kit visit: http://23andMe.com
Methylation Analysis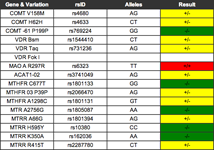 This website automates a methylation gene analysis just by reading your 23andMe raw data. Simply click on the Methylation Analysis tab, upload your 23andMe data, and you'll receive your results. Simple!
People with Autism, CFS (Chronic Fatigue Syndrome), Chronic Lyme Disease, Multiple Sclerosis (MS), Mood and psychiatric disorders, Postural Orthostatic Tachycardia Syndrome (POTS), Mast-Cell Activation Disorder (MCAD), Multiple Chemical Sensitivity (MCS), Heavy Metal Toxicity, Environmental Illness and more may find this information helpful.
Check out what our automated methylation analysis looks like.
DNA Methylation can be supported by vitamins such as B12, Folate, SAMe, and B6.
I suggestion reading Autism: Pathways to Recovery to get familiar with methylation and genetic testing.
The service is free. Your only cost is the $99 23andMe test.
Detox Profile
Our Detox Profile is similar to the Detoxigenomics profile. It looks for various defects in your Cytochrome P450 detox enzymes, amongst other things. The biggest difference is that it uses your 23andMe data and is completely free.
Simply click on the Detox Profile tab, upload your 23andMe data, and you'll receive your results. Simple!
Please Donate!
I am providing a free service, but it still costs me money. If you would like to see this website stay up and running, please donate! Donations are needed to pay for the domain and server. I would like to say that anything extra will go to starving children in Africa, but in reality anything extra will probably be used for healthcare costs and overpriced vitamins.